In the Our Content manager you can create new lessons, tag lessons for specific groups or locations, and add quizzes for each lesson.
You will be able to categorize lessons, share comments with other administrators, track changes and create new drafts.
After approving completed lessons you can place them in the right spot in the User View Manager.
Creating Content Categories

To create a category for lessons click the "Add New Category" button. Categories can be used to separate content however you like, from a "Handbook" with basic information all your users will need to know, to Safety procedures, and more.

Categories can be renamed, deleted, and moved. Sub-categories can be added to a category. Just mouse-over the category and a series of icons appear on the right side: Add Content, Add Sub-category, Edit Category, Delete Category, and Move.
Creating New Lesson Content

To create a new lesson, click the button at the top of the page, click on the icon when hovering over a category row or found at the bottom of each open category.
Content items can be dragged into or out of each category or dragged to the top of the page to delete them.
Once you have named your new content (Lesson), click on its title to begin a first draft. You are now on the Lesson Editor screen.
Here you can add an image, begin drafting new content, or copy in content from another source.

Easy to use mark-up and editing tools make content drafting easily. You can add images (drag and drop, or upload to the image library, make lists or tables, and even link to videos with our easy What You See is What You Get editor. You can even copy and paste from your current documents – including any images used.
Click the "Preview Lesson" button to see what your content will look like to users.

Don't forget to save at this point! You can approve your Lesson draft now or wait until after you've created a quiz to match your lesson.
Creating Quizzes
Each lesson can be associated with a quiz to help ensure lesson comprehension. You can create the quiz for each lesson at any time by clicking on the "Quiz" tab. See our quiz page for more details.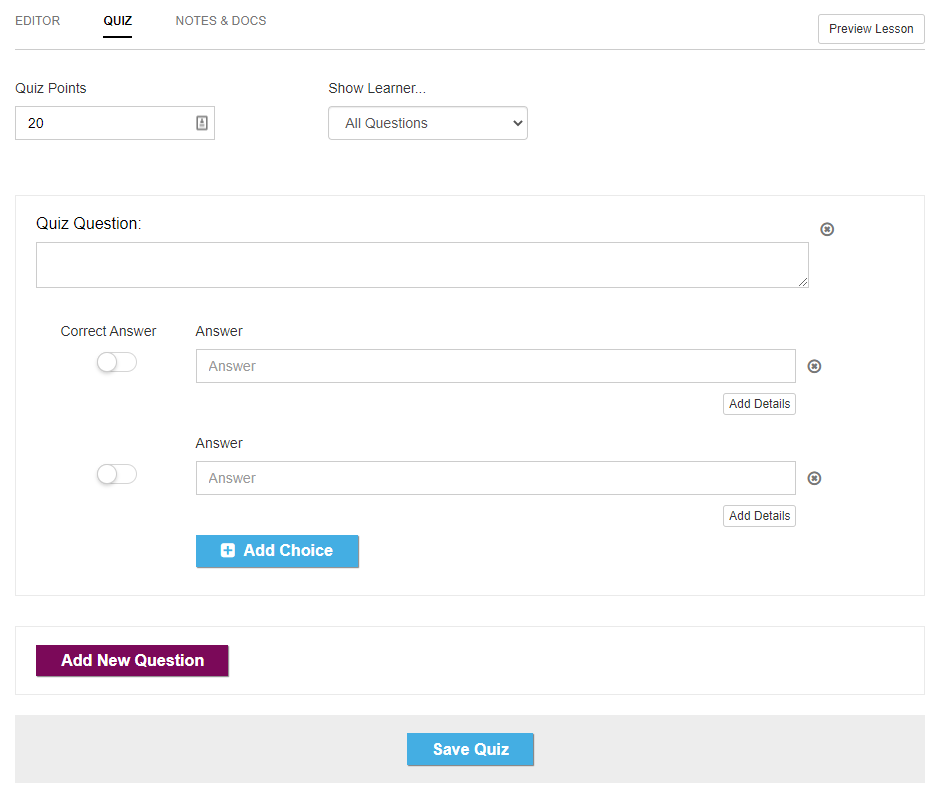 You can create a single or multiple question quiz. You can also decide if each user will be shown a random question or be required to answer all questions in order to earn points associated with each lesson.
The number of points earned is set by default in Settings, but can be changed on each quiz.
Approving Your Lesson
Once you've prepared the elements of your Lesson, you can approve the draft. Approving a Lesson draft doesn't send it to your users to read yet. There is one more step – setting up the User View Manager.