The Dashboard Management system allows you to set the appearance of the Dashboard page that all Users see when they first log in. There are a number of widgets and options available that can be activated or deactivated based on your needs.
Announcements
The Announcement option is a way to ensure all users see any important information when they first log in. The announcement is always highlighted at the top of the Dashboard.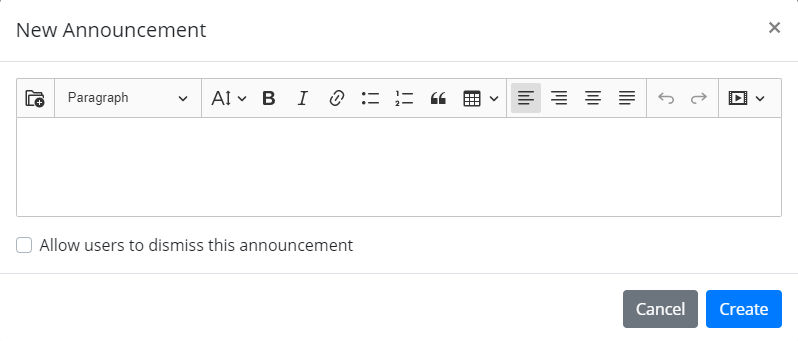 Click New Announcement and an editable box will appear. You can include any text, images, and links that are important to share to your Users.
You can allow Users to dismiss the announcement if the information is shared as a one time message (for example, a welcome message to new Users, a holiday greeting, etc).
Otherwise, any active announcements will remain active and appear at the top of every Dashboard until they are deactivated or deleted in Dash Management.


Once created, an announcement can be set active by pressing the grey toggle option. The announcement can be edited or deleted at any time.
Widgets
The Dashboard contains a number of 'widgets', individual options that can be turned on or off depending on your use of MonkeyLMS. Just click the grey toggle to turn the widget on (blue) or the blue toggle to turn the widget off (grey). Some of the widgets have editable areas, and others use 'sample' information. You can always check your Dashboard page to confirm what the Dashboard looks for your Users.
The simple widgets include:
Location Leaderboard: This shows the top locations by total points earned by all Users in that location.
Leaderboard: [User Group]: this shows the top Users within the User Group. Users see the names of other Users in their Group based on total points earned.
Latest Content: This shows the newest Lessons and Courses available to the User.
My Recent Activity: This shows the most recent completed Lessons and Courses for this User.
My Overall Progress: This shows the User's current progress through all Lessons and Courses available to them.
Featured Content and Featured Profile
The Content and Profile widgets allow significant editing and content options.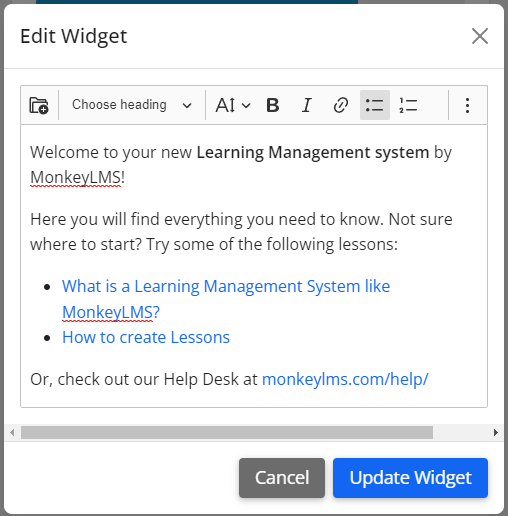 The WYSIWYG (What You See is What You Get) editor you can include images, links, and all standard editing styles.
Points
Each User can see their total points. You can edit this option to include their 'leaderboard' position based on their User Group and/or Location.

My Learning Path Progress
If your Users have Learning Paths they can see their current progress through their Path, as well as the next Lessons or Courses available to them.