A Training And Learning Management System (LMS)
A 24/7 Operations Resource For Your Team
A
2FA-Secured
Vault For Your Organization's Knowledge

DIY Customization To Fit Your Needs
Own or manage a small to medium-sized business or other organization?
Do you have 10 to 5,000+ employees or stakeholders?
Are your policies, processes and everyday operating knowledge stored in your peoples' heads and laptops?
Rely heavily on staff or volunteer knowledge to run efficiently?
Do you have people working in separate locations or from home?
Are you experiencing turnover in an ever-changing environment?
Do you have knowledge transfer and teaching processes in place if someone falls ill or leaves?
Do you have a way to update your processes and best-practices that doesn't get buried across staff email folders?
Do you know who knows what? Want to track knowledge and learning? Can you?
Does each person in each role have access to the most current knowledge needed to execute as required?
Can you wrap your protective arms around your organization's body of operational knowledge?
The likelihood is that most of the knowledge and information that your organization currently relies on hourly, daily and monthly to run at maximum efficiency is stored across multiple peoples' desks, brains, laptops and phones… and perhaps many of those span multiple locations.
Does any of that keep you up at night?
Maybe it's time to make a concerted effort to finally collect, protect and store it all!
When you make knowledge tangible, organized and managed, it becomes accessible and transferable.
Captured and packaged knowledge can revolutionize, scale and differentiate your business when deployed on a targeted basis to your various stakeholders.
Once your content is captured and securely stored in MonkeyLMS, it's easy to access, organize, edit and add to.
You can invite an infinite number of users and assign your own custom permission levels, functional areas, teams and geographic locations… and control who sees what.
… all according to YOUR custom requirements in a secure "always-on" environment
… so that your employees, contractors, volunteers, members, or customers all have immediate and ongoing access to everything they need
… and/or everything that you want, need and expect them to know.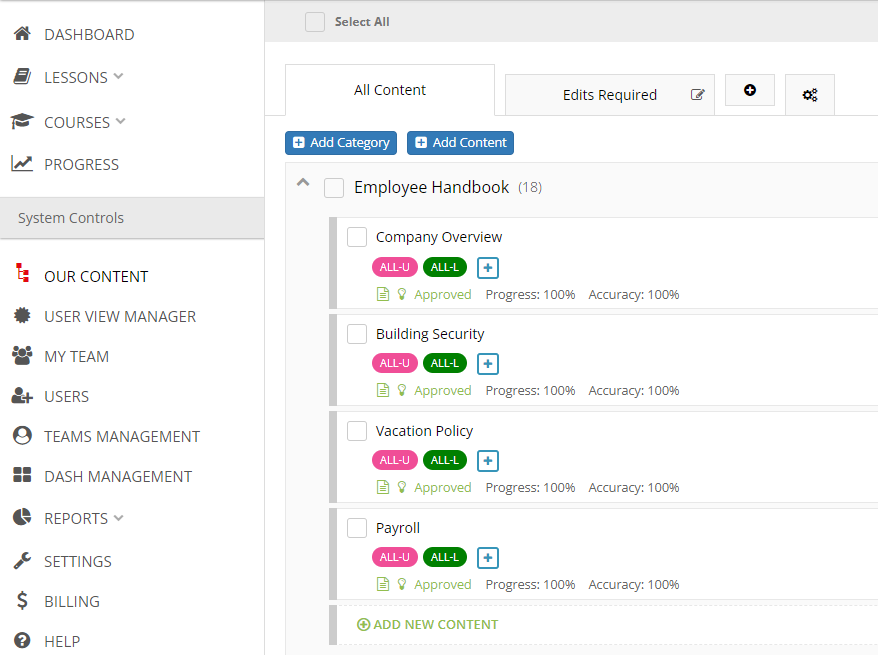 Content Management
Quickly add new content categories, lessons and exams. Edit content on the fly, and add quizzes with ease. Our simple content manager makes adding, editing and distributing content easy.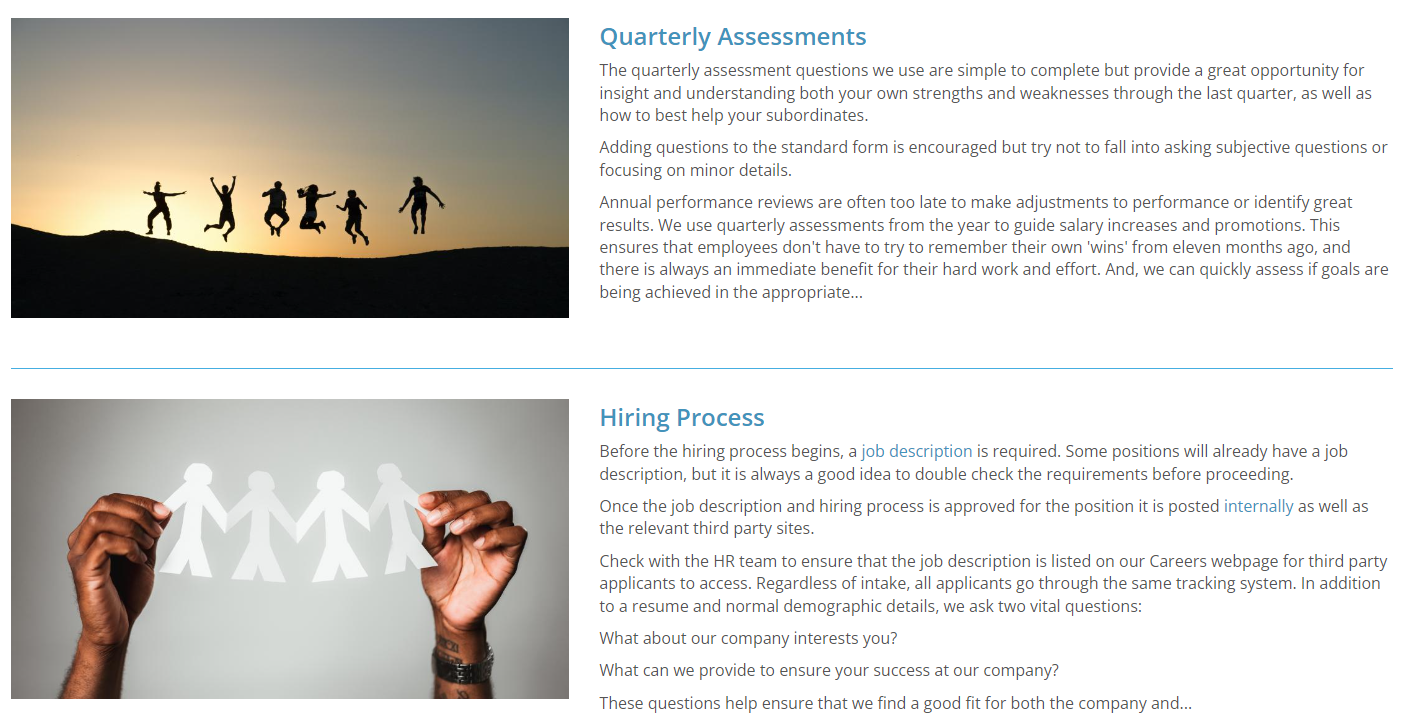 Intuitive Learning
Break content into bite-sized pieces with quizzes and make it really easy for your team members to find what they need and prove they know it.
MonkeyLMS is EASY for EVERYONE.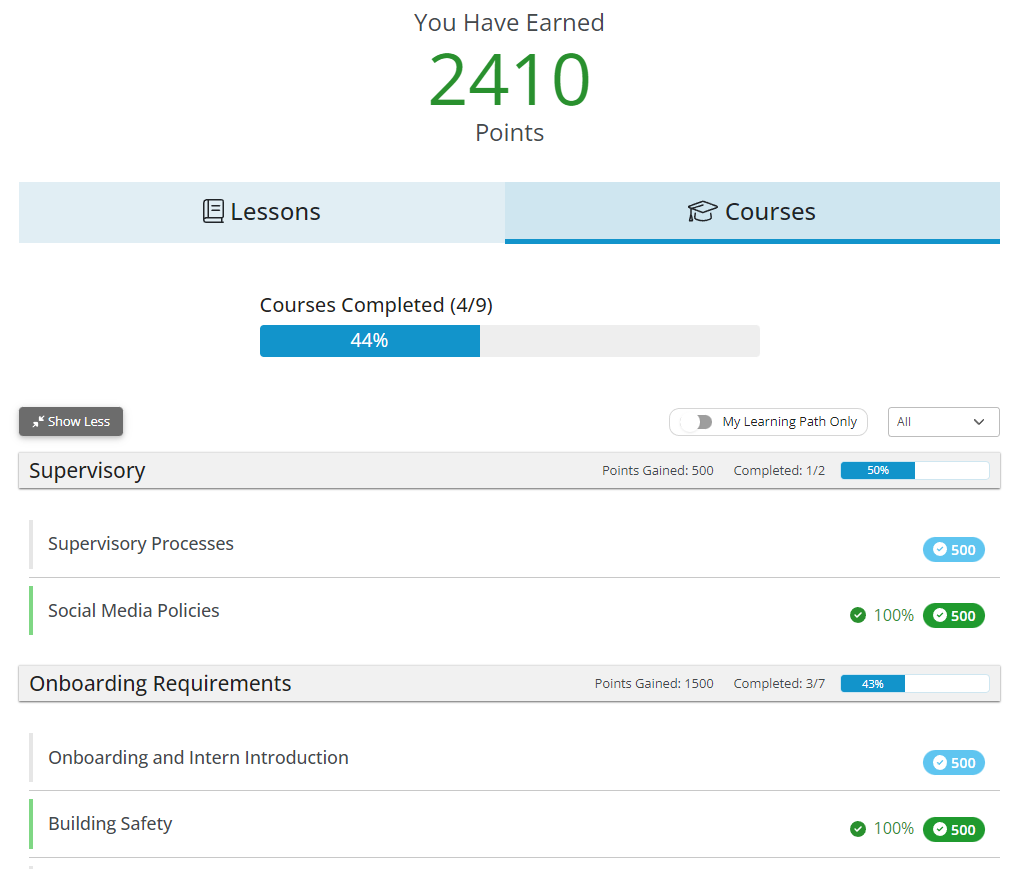 Gamification
In minutes, create a dynamic LMS that makes it easy for users to learn what they need to learn, and for managers to teach what they need to teach. Use points, achievements, and leaderboards to recognize individual participation and boost overall engagement.
Tracking and Reporting
Know who knows what across your business in real time. Track the absorption of new content, identify rock stars, and see where more education is needed using the Team Management dashboard.
Because we know every organization is run and managed differently, your MonkeyLMS platform is completely custom-configurable to your specific needs.
Use as many or as few of our features as you need and want without worrying about cost… it's ALL included for
one low introductory price
.
Two-Factor Authentication is on us!
From new employee or volunteer onboarding, to changing regulations, to periodic announcements to daily work duties, unlock the simple power of MonkeyLMS.
MonkeyLMS takes the pain out of creating your own Learning Management System. It is THE elegantly

simple

,

custom-configurable

,

all-features-included-at-a-single-low-cost

way for businesses to securely capture, manage, deploy and measure "how we do things around here".
Sleep better knowing your staff, and/or other user groups always have secure access to your organization's private platform…
wherever and whenever they need it.
MonkeyLMS makes content creation and management, knowledge transfer, team member training and progress tracking as simple as they ought to be.
At your option, turn on our gamification features to track what folks do and don't know, and set learning paths and deadlines for new employees or volunteers.
With simple but robust content management and editing tools, and granular individual and team progress and performance reporting, MonkeyLMS provides your organization with everything managers, employees and other constituents need to do their jobs or get what they need.
Access actionable reports, sliced and diced however you need them, to detect and deal with problem areas.
MonkeyLMS is easy, effective and competitively priced. Finally, an LMS that just works.
You don't just need an online learning system.
You need to get the right content to your team effectively and easily –
and know who knows what at all times.
Why We Made MonkeyLMS
We have spent years helping organizations document their learnings, creating their content, and building out learning management systems for them. Along the way we have learned the key ingredients that make LMS systems work.
We believe that LMS systems should be easy for everyone. Administrators need to get content up and distributed quickly. Learners need to find what they are searching for intuitively. Managers need to know who knows what at all times.
With MonkeyLMS we have developed what we believe to be the perfect balance of easy-to-use, easy-to-absorb, easy-to-customize, easy-to-manage, and easy-to-track. We've put the control in your hands with a truly "Do-It-Yourself" platform.