The Simple
FAMILY ARCHIVE
For Your Extended Family
A Private Secure Online Vault For Your Family's Heritage, History, and Memories
Is your family close or have a memorable history? Are you the official 'archivist' for your family? Does your family have a way to preserve its past and document the present for future generations? Have you ever emptied the home, or safe, or safe-deposit-box of a deceased loved one? What do you do with all of your parents and grandparents' birth, marriage and death certificates? What happens to that framed military service document of your grandfather that hung on his wall when he passed? Did he or your grandmother leave their war diaries when they passed on? Do you really want to physically dump your Uncle Ivan's war medals as a tank commander without some way for future generations to "see" and understand? Where do you store the video interview you did with him before he died?
Write Commentary on Family Life's Events as they Unfold
Set up unlimited content categories as you require them. Perhaps a category for each family branch and sub-categories by generation? Add in more for family reunions, ancestors, vacations, graduations, weddings or births. Store the family tree and add to it as the families grow. Add comments or stories and photos, videos, documents or weblinks… all stored safely for future reference. MonkeyLMS is the perfect tool to capture, organize, add commentary and store your family's history. Edit and add to it as you travel through life, making it a private and secure family resource for your loved ones long into the future.
Add Photos, Videos and Document Scans to Preserve your Family History
The good news of course is that anything can be scanned or photographed and then stored…along with any comments, history and supporting photos or videos you want to add… for future generations to refer to when they want or as the need arises. Could your family use a secure MonkeyLMS family archive or library?
A Family Knowledge Transfer System for Future Generations
You or your successors don't always have the space, organization or even the inclination to carry these things forward through life. Physical documents and 'things' can't practically be 'passed down' endlessly in boxes from one generation's basement to the next. However, current and future family members may have the interest and/or future need for access to it. That isn't always easy with spread-out extended families lacking physical proximity and access to the box in your sister's basement 1000 kilometres away.
Customize To Your Family's Needs
Give each family member their own login. Decide who can add and edit information… maybe it's everyone… or maybe just a few archivist volunteers? Either way, whomever you do invite will always be able to view the past, and learn and stay current with the goings on of their extended relatives. Our gamification features can even be used to set up fun exams and quizzes about all things family. Create family teams and leaderboards to establish competition and bragging rights.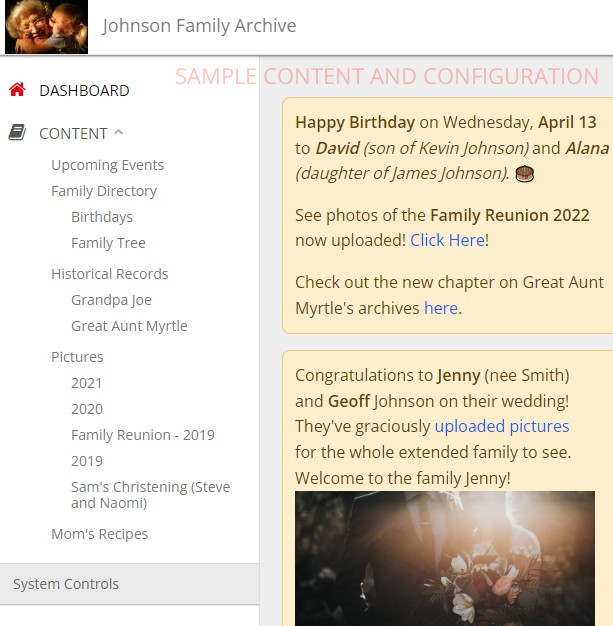 The likelihood is that most of the family knowledge, information and documents important to your clan are in the hands of just a few family members. Could it be time for your family to think about gathering, digitizing, organizing and securing their ancestry and documents all in a single, secure and private vault in the cloud where the whole family can access it anytime?
Collect, protect, and store the interesting, sentimental and proud moments in your family for future generations to learn from where they came.
We know that families function differently than organizations, so we've made it easy for you to choose which features, content tags, user types and permissions you want to enable. With a family archive, we're guessing you'll want all the content available to all your users, but you can certainly decide who sees what. All features are available to you at our
Non-Profit pricing
and the basic monthly fee covers your first 50 users. We are a Software as a Service (SaaS) platform, so there are no software downloads required by your Users… just an internet connection and their unique login credentials.
For greater certainty of security and privacy, turn on the optional and free Two-Factor Authentication (2FA) feature. Your users will be emailed a unique code to gain access to their account after they've entered their email and password.
MonkeyLMS is easy to use, efficient and priced low for your family to consider. It's an online family memory, photo, video and document management system that just works and is easy for your family to use.
You get a 30-day free trial to give it a whirl before you decide. If you don't like it then you don't sign up. If you like it enough to sign-up but then change your mind a few months later; no problem….our Agreement is simple and you're out with 30 days notice. While your family archive is certainly intended to be long term in nature, your legal obligation to us is just one month at a time. And of course the content you put up is always exclusively owned by you, and is returned to you upon termination.